With yet another sunny day here on the Dutch North Sea coast, the final race to conclude The Hague Offshore Sailing Worlds on Friday looked like it could be easy. Yet the weak and shifty northwesterly 8-9 knot breeze kept frustrating race managers as they tried to set a square course that would be sufficient quality for a high stakes final race to this world championship. Podium positions were on the line in this race in all classes.
But even once the courses were set on the Class A – B and Class C course areas, it was the sailors that now held up the starts with aggressive moves. Even if the wind was low, tensions were high as four recalls were necessary in Class B, even use of the Black flag, before a race could be successfully started, and three in Class C.
In Class A, the gold medalists, Karl Kwok's Pac 52 Beau Geste (HKG), opted to get a one-day head start on their journey to their next event, the Copa del Rey in Majorca, and thus elected not to race today. So Tilmar Hansen's TP 52 Outsider (GER) was virtually unopposed to take today's race and the Silver medal place on the podium.
The Bronze medalists, however, had to work for their spot in Class A today and nearly lost it. With Outsider so far ahead, the fight in the middle of the class was for second in this race, and Bas de Voogd's Carkeek 40 Hitchhiker won this by earning a second place in both ORC and IRC scoring. However, the sums of the ORC and IRC scores in this race for Ker 46 Lady Mariposa (GBR), Tea Swan 45 Blue Nights (FIN) and Kirsten Harmstorf's DK 46 Tutima (GER) were the same (8 points) so when summed and shared among the three boats, they earned 4 points each. This left just a one-point margin between Hitchhiker and the Rotterdam Offshore Sailing Team's Ker 46 Van Uden (NED) led by skipper Gerd-Jan Poortman, with Van Uden taking the Bronze.
"We're super happy, although we made it a bit hard for ourselves," said Poortman. "At our pre-briefing we were talking about it: You don't want to start to early or make other stupid mistakes. And what did we do? crossed the starting line too early."
Van Uden is an education boat for teaching big boat sailing to young sailors, with Poortman as one of the coaches. "That early start has maybe a bit to do with the inexperienced crew, they want to win really bad and start pushing too hard. But it was great to see how everyone went into a hyper-focus mode, as I like to call it. The rest of the race no one said a word, we were just sailing very very fast."
Hans van Dam, steering the boat this event, has been part of this team since the start of the last season:
"It's so cool to race between these professional sailors this week, and beat some of them as well. They were pushing us all through the week. We've made some big steps, and today we sailed better then at the beginning of the week. We're going faster, our boat handling is better and our starts are better – well, except for that start today…"
In Class B, the Norwegians were well-assured of victory for both Gold and Silver. Claus Landmark's team on his Landmark 43 Santa had a late night, knowing they had passed their measurement checks and had victory assured so long as they did not misbehave. The team on Torkjel Valland's sistership White Shadow was a little less confident when there was a small measurement issue discovered, but it turned out to be very minor and did not change results.
Besides Landmark, the Santa team was composed of Calle Andersen, Catherine Andersen, Maren Magda Book, Morten Christiansen, Verard Guttormsen, Espen Guttormsen, Petter Haglund, Lars Landmark, Roger Nilson, and Sverre Trangerud.
So the fight was on for Bronze, and just like in Class A the team in third yesterday nearly blew it today. One contender, Martin Estlander's X-41 Xini Freedom (FIN), earned a bullet among their other strong inshore finish scores of the week. Had Tiit Vihul's X-41 Olympic (EST) not placed 4th today and slipped just one place to 5th, then there would have been a tie-break with the Finns which would allow them to take Bronze in this class.
"It was a very tough race today, at the first mark we were 15th," said Vihul. "I thought we would never come back, but we pushed and pushed. Fourth place was a great surprise, we didn't give up and kept on pushing."
But the big story for today day was the Gold Medal fight for supremacy in Class C. Patrik Forsgren's modified First 36.7 Pro4U (SWE) knew this personal fight was coming, they anticipated it last night, and knew they were at risk since they are slower than Gideon Messink's J/112E J Lance (NED). The chess move was this: due to the points values of discards each team had, and the shrunken gap between them going into this final race, there was a chance for J Lance to take the lead if they were able to push the Swedes back into the pack far enough to have a result worse than their current discard of 24th, regardless of where other boats finished.
J Lance thus executed an aggressive plan of match racing Pro4U in the pre-start and the first leg of the race, pushing them back tack for tack, and staying close on the first run to hit them again on the second upwind leg. The plan worked, with the two deep in the pack, J Lance correcting to their discard score of 43rd, and Pro4U correcting to their discard of 39.5. J Lance was raced this week by the Dutch team of Jelle Dingemans, Nic Bol, Rick Bomer, Yves de Block, Martin Rinkes and Ko Stroo.
Left alone, Kai Mares's Italia 9.98 Immac Fram (GER) was then free to earn a respectable 3rd in this race and advance to the Silver medal podium position.
"The people in my team have been doing the math," said Messink, "and we needed to make sure the Swedish team didn't score a 17 or higher. We still had the room to discard a bad result since we've only been sailing top 5 in the past week, the offshore race was not discardable, and the third race couldn't get to us anymore. So it was a real battle with them. We do salute these guys [Pro4U] and all in this tough class for having sailed a great series, and thank the city of The Hague, the organizers and all who helped make this a great event."
The Corinthian division winners in each class were Ralf Lassig's XP 44 Xenia (GER) in Class A, Frans Rodenburg's First 40 Elke (NED) in Class B, and Pro4U in Class C. In all there were 24 approved all-amateur Corinthian teams in this event.
Bruno Finzi, Chairman of ORC, said "It has been many years we have been working with our friends at RORC to combine our rules, and this was an important first step. We would like to invite everyone to next year's World Championship in Sibenik in the first week in June, and look forward to seeing you there."
"It was about 10 years ago the we met in Hamburg with our friends at ORC to start discussing how to get to sail together," said RORC Admiral Andrew MacIrvine. "Its taken some time to get here, but I'm very pleased this event was so well-handled with the excellent cooperation of both our technical teams and our hosts, and look forward to more progress in the future."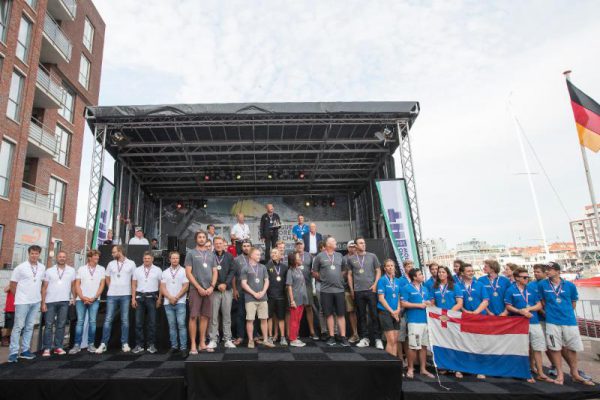 Speaking of the future, the loudest applause at the prizegiving was given to the youngest team entered in the event: Wouter Borghijs and his wife Leen Ronsyn on their A 35 Tontin Pups (BEL) had all junior sailors on board, ranging in age from 9 to 15, including four of their own kids. Their sailed every race of a long and hard-fought series, and were all smiles on stage. When asked if they would do this again, their response was simple, emphatic and direct: "Definitely!"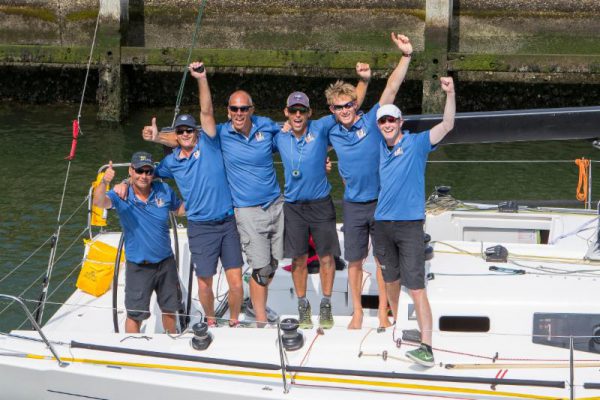 Marcel Schuttelaar, chairman of The Hague Offshore Sailing World Championship 2018, was also pleased with this first-ever combined Offshore Worlds. "We have had non-typical Dutch weather conditions, with all the elements you could wish for. We've had no wind, big currents and one day of even heavier wind conditions. The battle was on until the very last moment on the different courses. Only in the last race was it decided which of these excellent teams are crowned World Champions in 2018."
All results can be found at https://www.manage2sail.com/en-US/event/OSW2018#!/results 
The next planned Offshore World Championship will be in Sibenik, Croatia and held over 1-8 June 2019.